Heavy-duty wood shipping crates that ship and store flat
Collapsible Design
SharkCrates ship and store flat, which saves freight cost and warehouse space.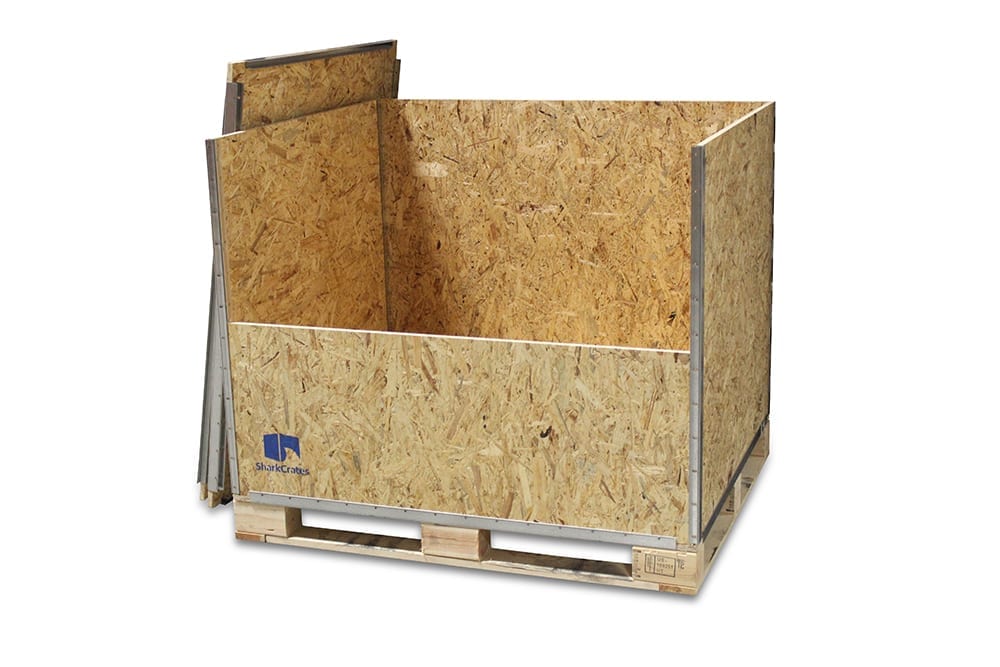 Quick Assembly
Assembly takes about 5 minutes, leaving your team time to focus on their core tasks.
Heavy-Duty Construction
The rugged design is will keep your freight safe on trips around the corner or around the world.
Whether you are a manufacturer, a distributor, or a logistics company, our wood shipping crates are the perfect complement to your product and offer superior protection during transit.  Our standard crates and custom shipping crates are ISPM-15 certified and export ready, which makes them perfect for shipping around the corner or around the globe.
The SharkCrate Bracket System
SharkCrates are heavy duty and collapsible wood shipping crates that are economical and easy to use. Instead of using 1×4 and 2×4 framing and cleating like traditional wood crates, we developed a unique bracket system that functions as the crate frame.
This invention has given us enormous flexibility in wood crate design, production, functionality, and delivery.  An added benefit of the "lumber-free" design is that we are able to preserve precious interior space, thereby decresaing the overall footprint of the crate.
Our simple and intuitive design creates a highly customizable and economical wood shipping crate that is incredibly strong, versatile, and export ready.
Calibrated OSB
Because we have engineered 

our crate

 brackets to specific standards, our system utilizes 19/32" (sometimes known as 5/8″) panel

s to 

secure

 the crate bottoms, sides, ends, and tops

.  Other materials such as plywood can be used, but we cannot guarantee a perfect fit.
Hardware Ships Attached
During production, we fasten all brackets to the panels and stack them in individual kits on top of their own pallet for shipment.  Shipping our crates flat allows us to stack multiple crates on top of each other and reduce the freight cost to our customers.  
Additionally, the compact nature of our crates saves our customers space in their warehouse, as they can simply assemble the crates on an as-needed basis. 
Our Pallets
The solid block-pallet construction of our SharkCrates pallet ensures stable footing and enhanced durability for multiple trips, if required.  The ISPM-15 Certification stamp on our pallets means our crates can be legally exported anywhere in the world.
While we use block pallets for our standard shipping crates, we also offer custom pallets including pallets designed for heavy machinery or with other internal or external modifications.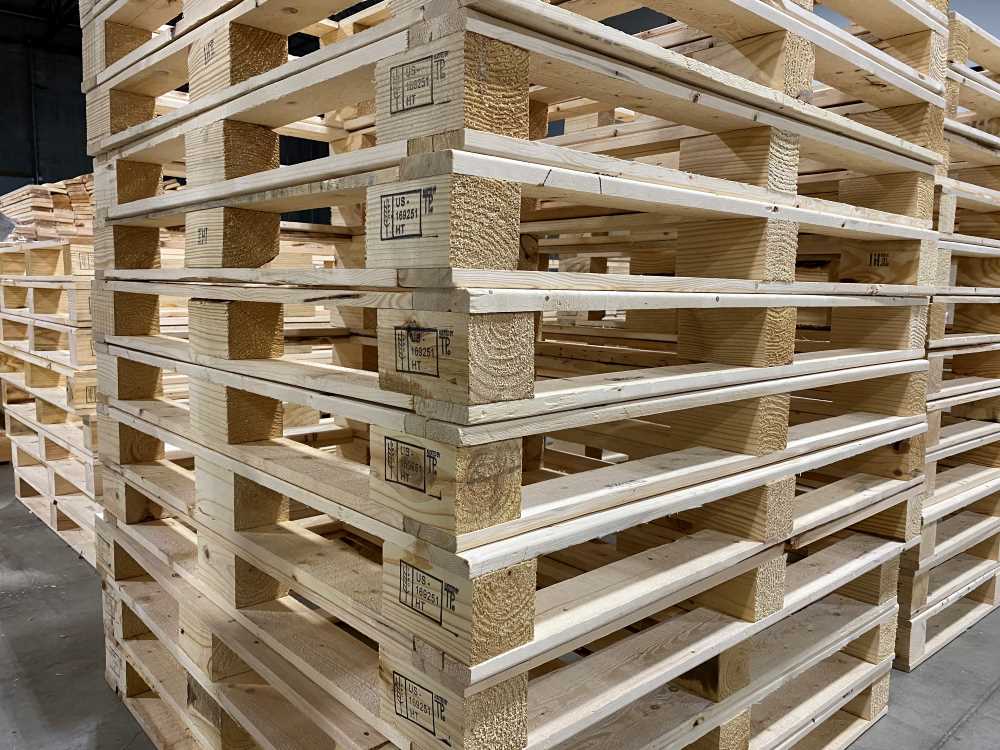 Quick Assembly
Assembling SharkCrates is a quick and easy process.  To keep is simple, we individually band all SharkCrates, so all the parts for each crate are readily available.  After un-banding the kits, it should take most customers about 3-5 minutes to nest all the panels into place.  Once the crate is assembled, it will need to be secured for shipment.  This can be done with steel or poly pallet strapping, wood screws, or ratchet straps.  The benefit of using pallet strapping or ratchet straps is that the receiver of the crates can disassemble them just as quickly.  For more information, please see our assembly page or click the link above. 
International Shipping Crates
All SharkCrates are ISPM-15 Certified and ready for international export.  You'll notice our unique IPPC certification stamp on all our block-style pallets.  Exporting wood products without this stamp may result in your freight being rejected at an incoming port, subjecting you to freight abandonment or steep shipping penalties.
ISPM-15 Certificate
If required by your freight company, customer, or importer, please download a copy of our current ISPM-15 Certification.